"The People's Republic of China is ready to join forces with Russia to decisively stand up for national interests and promote mutually beneficial cooperation in all areas," Wang said Tuesday while meeting with Russian Security Council Secretary Nikolay Patrushev. On Wednesday he met with Russian President Vladimir Putin in what appeared a warm and cooperative visit.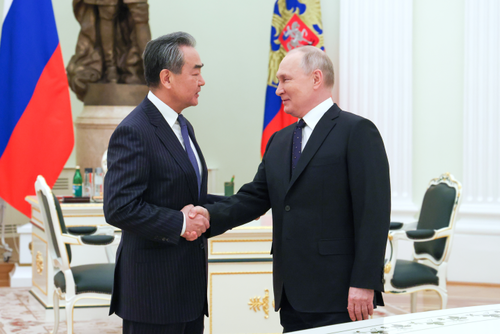 "During a virtual meeting at the end of last year our leaders [Xi Jinping and Vladimir Putin] came up with a plan for further development of bilateral relations. We are ready to join forces with the Russian side, in accordance with the high-level agreements, to decisively stand up for national interests and virtues, and promote mutually beneficial cooperation in all areas," the Chinese diplomat's statement said.
He additionally said China will "together with all like-minded partners further promote the development of the international order in the direction of equitable development."
"It's necessary to unlock the potential of this mechanism, and it's also necessary to develop new steps of strategic interaction in accordance with the changing situation in order to provide the necessary guarantees for national development," Wang added. "I want to fully join your appreciation of the strategic cooperation between the two countries."
The positive and glowing statements amid the high-level visit comes at a crucial juncture in which Moscow needs a powerful backer in its corner which also holds a seat on the national security council. The war in Ukraine is days away from reaching its one-year mark since the invasion began.
The Kremlin praised Wang's stance in response, with Russian Foreign Minister Sergey Lavrov welcoming "China's balanced position on the Ukraine issue." He further declared that "ours and China's vision is much the same" concerning the crisis.
However, it will be interesting to see if any further specifics on Ukraine emerged from the China side. So far, Wang appears to be advancing the official party line which has been somewhat ambiguous, also while in Moscow saying that China will maintain its "objective and impartial stance" on the Ukraine crisis. Toward this end, he said that China "appreciates Russia's willingness to resolve the crisis through negotiations," according to TASS.
Beijing has of late expressed its desire for warring parties to reach negotiated peaceful settlement in Ukraine. This could be focus of President Xi Jinping's upcoming trip to Russia. While news of the future trip broke Tuesday, President Putin confirmed Wednesday that it will happen – a very significant symbolic first since the Ukraine invasion.
"We are expecting the president of the People's Republic of China to visit Russia. We agreed on this earlier," Putin said as he welcomed Wang Yi in the Kremlin. The Russian leaders praised the "new frontiers" that both countries are forging together:
President Vladimir Putin said on Wednesday that China's Xi Jinping would visit Russia, saying relations had reached "new frontiers" amid U.S. concerns that Beijing could provide material support to Russia's invasion of Ukraine.
"We understand that [China] has a domestic political agenda, but we assume that as we tackle all the issues related to this agenda – with the National People's Congress, which is made up of Chinese deputies, who must also resolve serious personnel issues – we will implement our plans for personal meetings as well, which will give an additional impetus to our relations," the Russian president added. A specific timetable has yet to be publicized, but US policy makers along with the rest of NATO and other UN Security Council members will without doubt be watching closely.
Meanwhile, Putin is on the offensive against his enemies near and far…
And concerning Zelensky's prior day's comments on the prospect of WW3 given deepening Moscow-Beijing relations…
* * *
Rabobank previews China's proposed peace plan for Ukraine in the analysis below:
Relatedly, Friday will see China's proposed peace plan for Ukraine. Any such attempt should be applauded, but the question is on whose terms. Western observers remain skeptical the plan will see any concrete details, while rumors are also flying China may threaten to do for Russia what the US is doing for Ukraine, amplified by the news that Xi Jinping will visit Moscow soon.
Logically, assuming China is not going to dump Russia, which it won't, there are few potential outcomes:
China offers nothing new. However, this would underline that it remains a bystander having bullets fired at it by the White House, who just warned that Chinese firms that try to circumvent sanctions on Russia will face "repercussions": like the ones forbidding the flow of Iranian oil?; or
China "escalates to deescalate" with an implied threat to stand behind Russia, in which case:

The US accepts a grand deal to climb down and partition Ukraine. That would mean a Western retreat on an historic scale that could snowball into a broader partition of the geopolitical and geoeconomic architecture – and the US won't want that. Yet it would also allow the US to pivot towards Taiwan – and China won't want that; or
The US reacts as if 'China just bought a ticket for the Titanic after seeing the movie', and the geopolitical and geoeconomic architecture shatters.
In short, the most logical probability is that neither the China peace plan nor the upcoming Xi visit to Moscow provide anything new. In which case, Ukraine escalation, inflation, and global polarisation it is. Yet the fact that we have a war in Ukraine at all should underline that the fat tail-risks are of something even worse – a scenario we originally flagged in our Ukraine metacrisis report in early 2022.
Article: China Says Ready To "Join Forces With Russia" To "Defend National Interests" As Putin Confirms Xi Visit