A food delivery robot company that delivers for Uber Eats in Los Angeles provided video filmed by one of its robots to the Los Angeles Police Department as part of a criminal investigation, 404 Media has learned. The incident highlights the fact that delivery robots that are being deployed to sidewalks all around the country are essentially always filming, and that their footage can and has been used as evidence in criminal trials. Emails obtained by 404 Media also show that the robot food delivery company wanted to work more closely with the LAPD, which jumped at the opportunity.
The specific incident in question was a grand larceny case where two men tried (and failed) to steal a robot owned and operated by Serve Robotics, which ultimately wants to deploy "up to 2,000 robots" to deliver food for UberEats in Los Angeles. The suspects were arrested and convicted.
"Evidence Submitted from Serve Robotics," is the subject line of a July 2023 email thread between Aduke Thelwell, Serve's head of communications, and an LAPD detective. 404 Media obtained the email and others through a public records request with the LAPD. It should be noted that Serve has touted its robots' autonomous capabilities, and has claimed it's deploying "AI-powered" robots in the city, but delivery robots are still often driven by remote human operators. Serve writes in its app that the robots are "autonomous, remotely supervised."
The emails are discussing a redacted subpoena from the LAPD in that case, which the company says resulted in a criminal conviction. "Hi Detective Estrella, confirming that we have uploaded the robot camera footage and a letter confirming the cost of the robot using the link you provided. Please let us know if you need anything else," Thelwell wrote.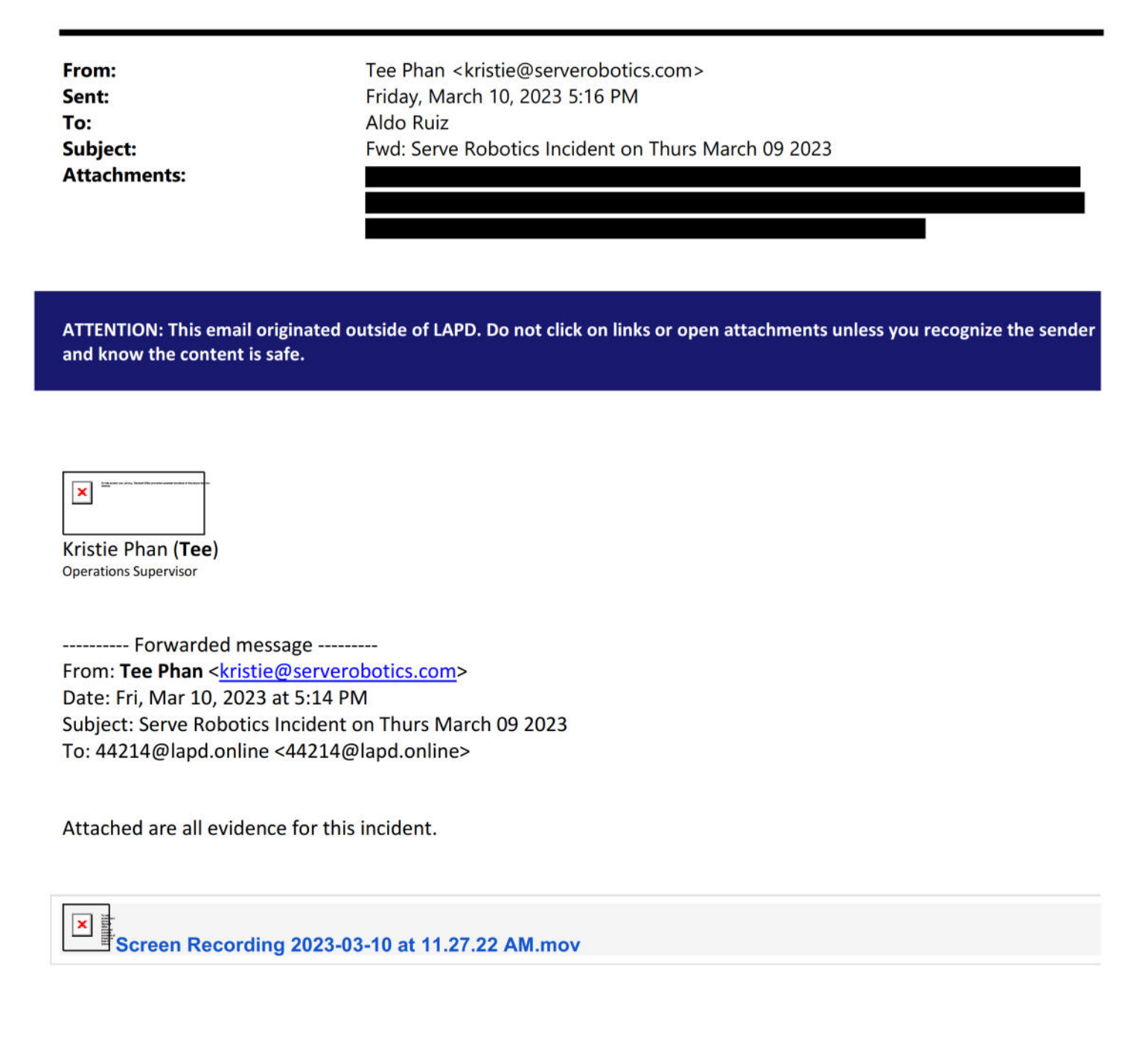 In addition to responding to the subpoena, the company also proactively emailed the video from its robot to the police in March, months earlier: "Attached are all evidence for this incident," an email containing a .mov file sent to an LAPD officer by Serve employee Tee Phan, who was later identified in other emails as the remote driver of the robot, says.
Food delivery robots from Serve and another company, Coco, are all over Los Angeles and have become a contentious subject in the city as they drive across sidewalks in the city. I live here, and I see delivery robots from Serve or Coco every single day. Their presence is a constant discussion on community social media like Nextdoor and Reddit. A TikTok and YouTube account called FilmTheRobotsLA has been documenting the robots driving around the city, getting in the way of pedestrians and pets, and getting stuck in the middle of sidewalks and roads.
The accounts collectively have hundreds of thousands of followers and tens of millions of views. Last year, a video of a Serve delivery robot driving under a police caution tape through what was suspected to be a potential active shooting event at Hollywood High School went viral (thankfully, there was no shooter.)
I wasn't able to find more specifics about the court case itself, nor was I able to obtain an incident report from the LAPD because of redactions and a public records exemption that the department cited in which it refused to provide any incident reports to me.
🤖
Do you know anything else about delivery robots or this case? I would love to hear from you. Using a non-work device, you can message me securely on Signal at +1 202 505 1702. Otherwise, send me an email at jason@404media.co.
The LAPD told me in a statement "The incident described was a Grand Theft. They attempted to steal the robot. The department is not aware of other similar incidents." The LAPD then added a vague statement about basic police work and declined to elaborate on its relationship with Serve: "Officers will meet with the person reporting to establish if there is a crime involved. If there is a suspect officers will make an arrest. If the suspect is not at scene officers will complete a report and detectives will do a follow-up investigation."
Thelwell, the Serve Robotics communications head, told me in an email that "In February, we became aware of an attempted theft of one of our devices in Hollywood … Since this appeared to be serious criminal conduct, we decided it was in the public interest to report this to the police." She said that the "robot left the scene on its own," and that police arrived and arrested the suspects.
"We were requested by police to answer questions on the crime and turn over video from our cameras before they are deleted. Like most companies, our policy is to regularly delete camera feed unless otherwise required, and to comply with subpoena requests," she added. "We were also issued a subpoena to testify, but we were later told we would not be needed in court."
Thelwell said "In accordance with Serve's privacy policy and relevant laws, the robot's camera feed is routinely deleted, unless there are compelling safety or security concerns." Serve's privacy policy has not been updated since April 2021, and is focused on its customers, not the people living their lives in Los Angeles who may happen to walk by a robot. The privacy policy only mentions "video" in the context of user-generated content on its app or forums, and states that it shares information "with law enforcement officials, government authorities, or third parties, if we think doing so is necessary to protect the rights, property, or safety of Serve Robotics, those who interact with us, or the public."
Thelwell also pointed me to a blog post written and published by CEO Ali Kashani immediately after I obtained the emails from the LAPD Tuesday that explains the company's policies on working with the police. Kashani's blog post contained a redacted version of the video the company shared with the police, but it has been deleted due to a copyright request. I have not seen the video in question because the LAPD refused to release it to me and Serve declined to send it to me.
Full article: Food Delivery Robots Are Feeding Camera Footage to the LAPD, Internal Emails Show