It was announced Thursday that Russia will close off the Kerch Strait to all foreign warships for six months amid rising Ukraine tensions, and after the US threatened to send additional warships to the area. The Kerch Strait is the vital, narrow waterway connecting the Black Sea and the Sea of Azov, and which importantly connects southern Russia to "annexed" Crimea.
"Putin will close the Kerch Strait beginning next week until October, blocking foreign warships that are conducting military exercises, including the US, the Ukraine foreign ministry said Thursday," The New York Post reported.
The move has enraged Ukraine, which is now accusing Russia of seeking to 'illegally' block its ships – especially naval vessels – from accessing the Black Sea, and has protested what it says is a severe violation of norms of 'freedom of navigation.
Ukraine's foreign ministry said "such actions by the Russian Federation are another attempt to violate the norms and principles of international law to usurp the sovereign rights of Ukraine as a coastal state, as Ukraine has the right to regulate navigation in these areas of the Black Sea."
Moscow has since underscored that it will not impact regional trade, particularly the regional grain trade for which the strait serves as a vital passageway, and that the closure is necessary for "military exercises". Reuters on Friday cited state sources to detail the following:
The right of passage of foreign warships and "other state ships" will be suspended in three spots near Crimea's Black Sea coast from April 24 until October 31, RIA said, citing Russia's defence ministry.
Russia says the strait is not closed to commercial and trade vessels. The closure comes after the Kremlin warned American naval ships to stay away from approaching the Crimea "for their own good".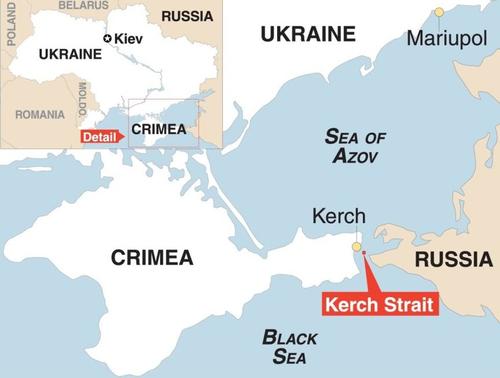 Meanwhile, akin to the major 25 November 2018 naval "ramming" incident which saw Ukrainian navy personnel arrested and detained by Russian patrol boats in the Kerch Strait, there's been new hostile encounters between the two sides this week in the same area, with Ukraine's military charging that Russia's Federal Security Service (FSB) tried to aggressively block its vessels.
"Russian FSB boats once again attempted to obstruct the legitimate actions of the Ukrainian Navy's boat group on combat duty tonight," the Ukrainian Navy said Thursday. "Despite the Russians' provocations and the targeted actions, the Ukrainian Navy submarine tactical group continued to perform its tasks."
All of this points to the increasing likelihood of a new major 'Kerch Strait incident' brewing… which could see yet more direct Russia-Ukraine naval clashes, akin to Fall of 2018 and other similar hostile encounters of the past years.
Article: Russia shuts Ukraine's military access to Black sea