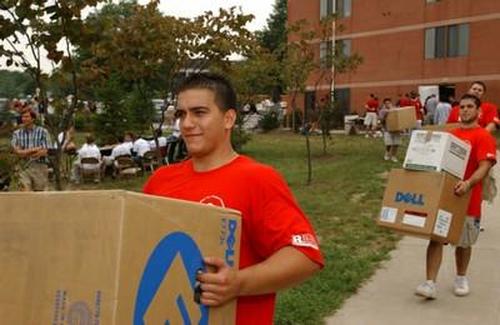 Administrators said President Joe Biden's mandate for everyone to be eligible for a vaccine by May, made during the president's first official press conference yesterday, should give students plenty of time to get their shots, UPI reports.
"We are committed to health and safety for all members of our community, and adding COVID-19 vaccination to our student immunization requirements will help provide a safer and more robust college experience for our students," Rutgers President Jonathan Holloway said in a statement.

[…]

"Vaccination is key to stopping the current pandemic," Brian Strom, chancellor of Rutgers Biomedical and Health Sciences, said.
Notably, the university added that students with religious or medical exemptions would be allowed to attend classes without the vaccine.
Of course, students who opt to continue taking classes online won't be bound by the mandate. "An effective vaccination program is a continuation of Rutgers' commitment to health and safety for all members of our community of more than 71,000 students, the cities we are in and the communities we serve throughout New Jersey," Rutgers Chief Operating Officer Antonio Calcado added.
Some criticized the university's decision to grant staff, from groundskeepers to professors, an exemption to the ruling, saying they won't be required to be vaccinated in order to teach (although, since professors are generally older than students, they would in theory have had more time to get the jab). Still, they will be "strongly encouraged" to receive it.
For Rutgers students wondering when they might be eligible, the NYT has published a summary of recent announcements from US states that are accelerating the expansion of eligibility, in keeping with President Biden's push to get 200MM doses into American arms by the end of his first 100 days.
Governors across the United States are speeding up eligibility for coronavirus vaccines as the number of new cases nationally plateaus, adding more urgency to vaccination efforts.

California will open up vaccine eligibility on April 1 to any resident who is 50 or older, and will expand that to residents 16 or older on April 15, state officials announced on Thursday, saying they could do so because of increasing supplies of vaccine from the federal government. And Gov. Ron DeSantis of Florida announced that any state resident who is 40 or older would be eligible starting on Monday, and that the minimum age would drop to 18 on April 5.

In Connecticut, which is among the most-vaccinated states in the country, Gov. Ned Lamont said Thursday that all residents 16 and above would be eligible beginning April 1. New Hampshire will make shots available to all residents 16 and older starting April 2, and North Carolina on April 7. In Rhode Island, Gov. Dan McKee said the state was on track to make vaccines available to all residents over 16 by April 19.

Gov. Andy Beshear of Kentucky said the state would open vaccinations to those 40 and older starting Monday, adding that a mask mandate would stay in place for at least another 30 days. And in Minnesota, Gov. Tim Walz is expected to announce on Friday that all residents over the age of 16 will be eligible starting March 30.
Meanwhile, New Jersey announced Friday that it would lower minimum age to 55 as of April 5, meaning it's running behind some of its neighbors.
As we wait to see whether more schools will follow Rutgers' lead, many Americans are wondering whether employers will impose similar requirements. Dr. Scott Gottlieb told CNBC in a Friday morning interview that he doesn't expect employers. But while they might not explicitly mandate vaccination, Dr. Gottlieb believes they will find ways to incentivize employees to get it done.